Concierge
Your key to NYC

Pierre At Your Service

For nearly a century, guests of The Pierre have delighted in the hotel's singularly exceptional concierge service, offered by Les Clefs d'Or members who strive, quite simply, to make the impossible possible, every day. It is our pleasure to assist you.

Whether you require theatre tickets or dinner reservations, a videographer to capture a milestone moment, or a private appointment with a gallery owner, jeweler, or personal shopper, we encourage you to contact us.
Meet the Team
Concierge Maurice Dancer
One evening a guest approached the concierge in a panic as he'd just discovered that he'd left his mobile phone in the back of the Uber. Maurice attempted to reassure the guest that he was at the Pierre, a Taj Hotel and only positive outcomes occur! Maurice guided the guest through sending a message via his iPad while Maurice sent HELP messages via his Uber app. Maurice noticed the guest increasing anxiousness and urged him to take relaxation in his room. Maurice began to share the issue with Dany who stated that he had once been an Uber driver and there was a contact number provided to the drivers.

Meet the Team
Concierge Ivette Munroe
One rainy day, tourists from Chicago made the right decision to take refuge from the rain at The Pierre. While in the lobby they met Ivette at the Concierge. They had a lovely chat with Ivette and mentioned that they were on a strict budget and were hoping to visit museums on their free admission days. Ivette called the MOMA museum and asked for any special discounts. The employee at the MOMA museum was kind enough to offer her friends and family benefit to allow the guest and her Son to visit the museum for free.

Meet the Team
Concierge Abraham Guzman
A guest visited the Concierge Desk looking for assistance with tennis shoes that have velcro. Abraham assisted the guest and began the search for this special type of shoe. After multiple calls to different stores, Abraham still had no luck. However, he remembered that one of his friends is a Home Care Attendant and she would probably have an idea as to where to locate the shoes. She gave Abraham the information and he contacted the vendor and was able to secure the exact type of shoes they needed.

Meet the Team
Concierge Erin McDonnell
Concierge Erin ran into her old mentor/friend from Chicago, in the lobby. They had a wonderful catch-up and her friend introduced Erin to her new husband. Erin overheard them talking about Valentine's Day Dinner and the husband was quite upset that he forgot to arrange a special dinner for them. Since it was his first time in NYC he didn't know how difficult it is to get into restaurants on a Friday night on short notice. Erin quietly whispered to the husband not to worry about it as she would arrange a dinner for them in the most romantic room in the City; the Rotunda.

Meet the Team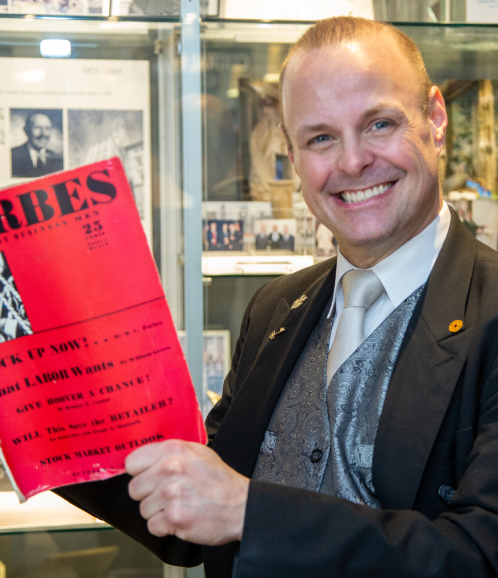 Concierge Christian Hogan
A guest asked Christian to enlarge a document for him so he could read it without his glasses. Christian produced a few options which pleasantly surprised the guest After receiving it, the guest called down and said he was having trouble with a speech and Christian invited him to come to Concierge. Christian made suggestions and offered to edit and retype the 6-page speech with all notations given. When Christian sent him the edited, retyped speech…he added a personal suggestion and an optional closing to his speech: The Old Irish Blessing.

Prev / Next
New York City at its Finest
The Concierge desk has to be second to none. Maurice and Charlie do a fabulous job. We worked with Charlie mostly who provided insight for amazing restaurants, local pubs as well securing us a helicopter tour of the Big Apple. Willy was friendly and informative as we came through the hotel.
Shayne U
Once in a lifetime trip and The Pierre delivered for us.
Lovely hotel with really nice people who simply cant do enough for you. Christian and Abraham on the concierge desk, Doris working the lift, Luis in the Perrine..the list goes on. They all delivered an old fashioned service with a wonderful human touch.
Mullers2
A TRUE LUXURY EXPERIENCE
Housekeeping even wraps loose phone chargers for you. Wow! Sam and Sergio are great bartenders and Maurice, the Chief Concierge has been there for over 30 years and it is evident why. Devon was always there to get me a cab/Uber quickly even when it was rainy. We love the entire staff and will return on our next visit.
Steven M
Contact Us

You may contact The Pierre New York concierge service by calling +1 212-940-8108 or completing the below form. A member of our Concierge team will respond to your inquiry.