Meetings
A Grand Place to Gather

Central Park Event Spaces

Find an unmatched setting for your upcoming meeting or conference at The Pierre. Our hotel features 20,000 square feet of multi-purpose meeting space, providing a private, highly productive environment for corporate events, seminars, board meetings, and other important gatherings. Our team of professionals will make sure that your event - large or small - runs smoothly and efficiently.

Request More Information Speak to our team (212) 940-8116
Meeting Services & Amenities
Dedicated meetings & events team to manage on-site logistics

Award-winning culinary team

Multi-lingual, award-winning Clefs d'Or Concierge Team

On-site 24-hour Business & Fitness Centers

On-site 24-hour package room for all your shipping/receiving needs

State-of-the-art AV equipment, including LCD panel, video conferencing and webcasting
Access to dedicated on-site technicians
Fully customizable LED Video Wall panel in Grand Ballroom

Access to Broadway at the Pierre performances
Unparalleled Event Experience
In addition to timeless opulence and world-renowned cuisine, The Pierre provides an experienced, dedicated in-house team to assist with every step of planning an unforgettable event.
Meet the Team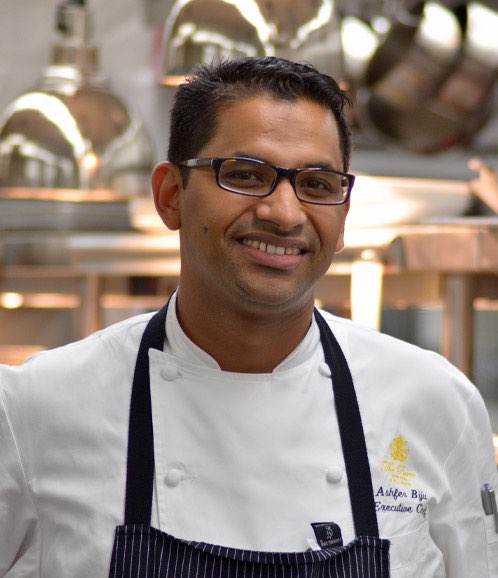 Ashfer Biju
Executive Chef
Ashfer Biju brings a worldly vision inspired by regional ingredients to The Pierre. Raised in a family of restaurateurs near Kerala, India, Chef Ashfer earned his hospitality degree in India. His career has taken him all over the globe—from the Culinary Institute of America to kitchens in Napa Valley, the Maldives, Jean-Georges in London, and Southeast Asia. Chef Ashfer enjoys working with couples to create a truly customized and unique wedding menu.
In addition to leading culinary operations for The Pierre's banquet spaces, Chef Ashfer oversees Perrine, The Rotunda, and Two E Bar & Lounge, managing a team of 50 cooks and seven sous chefs that, during the hotel's busy season, serve up to 5,000 people per day.
Meet the Team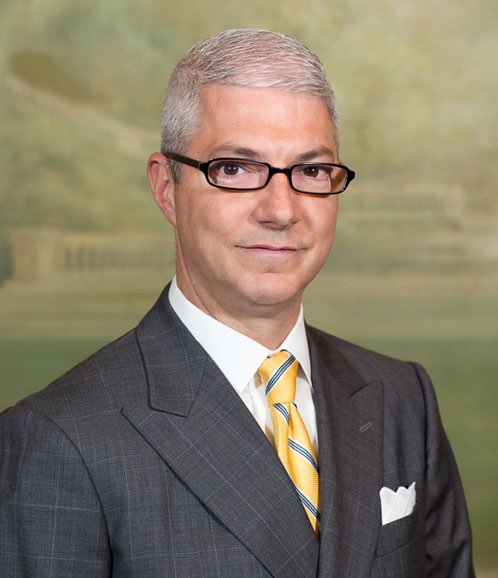 Christopher Edmonds
Director of Banquets
Chris brings more than 35 years of experience in hospitality and fine dining to his role at The Pierre. He credits his long tenure in part to the collaborative environment fostered at the hotel.
This is Chris' second term at The Pierre, beginning almost 25 years ago. He left to work for the famed Cipriani family at the Rainbow Room, where he was sent to train in Venice. Chris has also worked for private clubs and dining establishments in California and Florida. He was recently featured in the book, Food and the City by Ina Yalof.
Meet the Team
Mark Hunsch
Director of Social Events
Mark has been a part of The Pierre's renowned events team for 25 years. With his extensive knowledge and background in serving luxury properties in New York City, he is known for his attention to detail, dedication and delivering a truly personalized experience for every client.
Mark's prior experience includes prestigious local venues such as Cipriani, the Rainbow Room, and the Metropolitan Club.
Meet the Team
Bill Spinner
Director of Catering
As The Pierre's Director of Catering for 27 years, Bill Spinner is one of the most respected people in the event industry. He has served as host to celebrities, socialites, and heads of state, ensuring exceptional service and directing the production of New York's most celebrated events.
Prior to joining the hotel, Bill worked at legendary venues Windows on the World, the Rainbow Room, and Cipriani. A graduate of the Hospitality School at Penn State, Bill is an active member of the Chaine de Rotisseurs, NY Wine and Food Society, James Beard Foundation, and the National Association of Catering Executives.
Venues
With 20,000 square feet of versatile function space across ten meeting rooms, The Pierre is an opulent, one-of-a-kind backdrop for a wide variety of corporate and business events accommodating up to 1,500 guests.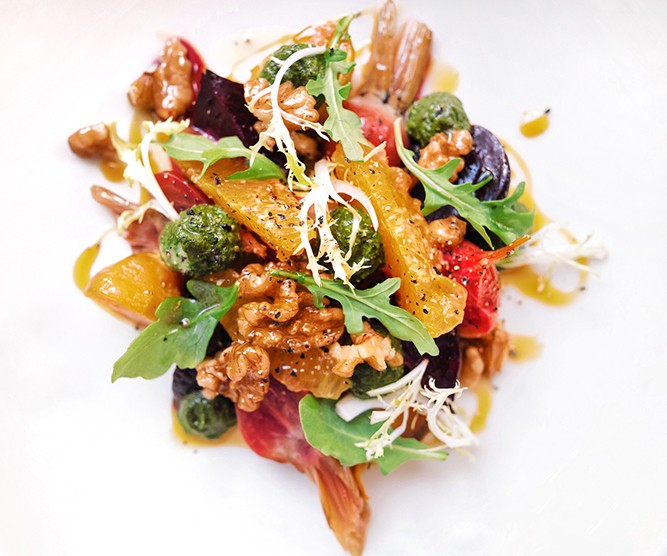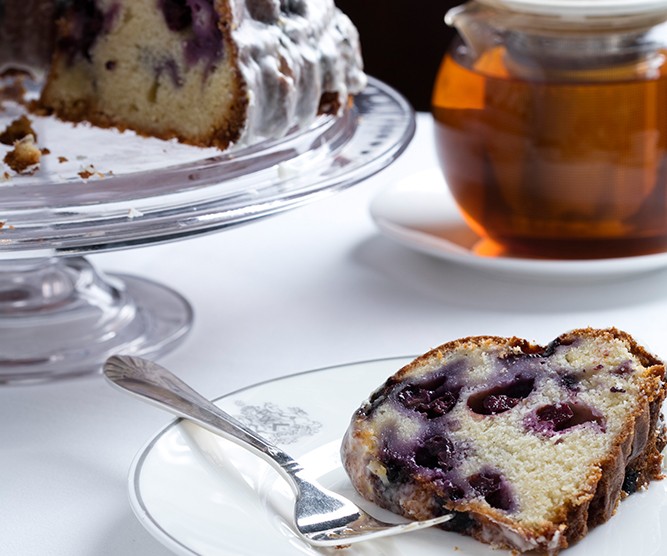 Catering

Exquisitely
Crafted Cuisine 

As New York City's leading team of caterers, the staff at The Pierre commits itself to outstanding food and service excellence, no matter the event. Whether it's tasty light bites or specialty refreshments, catering from renowned chef Ashfer Biju will undoubtedly impress at your next meeting, conference, or corporate event.
Pierre Experiences
Whether you prefer a front row private table for live Jazz in Two E, an education in the art of mixology paired with hors d'oeuvres, or a private dinner and wine tasting in the magnificent Rotunda, our Perfectly Pierre Experiences offer one-of-a-kind meeting and incentive group experiences that make meetings memorable.
Chef's Social Club
Hosted in The Pierre's beloved Rotunda, Chef's Social Club offers a private gourmet tasting dinner with small plates and wine pairings curated by our Executive Chef Ashfer Biju and in-house sommelier. Explore a rich tradition of celebrated cuisine against the majestic backdrop of hand-painted trompe l'oeil murals in the hotel's most iconic space.
Culinary Master Class & Kitchen Tour
Savor an evening of Pierre classics with a touch of spice. Go behind the scenes of The Pierre's historic kitchens. Prepare featured recipes with our culinary team in a two-hour hands-on master class as they pay homage to The Pierre Grill's 1948 Indian menu. Enjoy surprise mementos and a four-course dinner at our restaurant Perrine.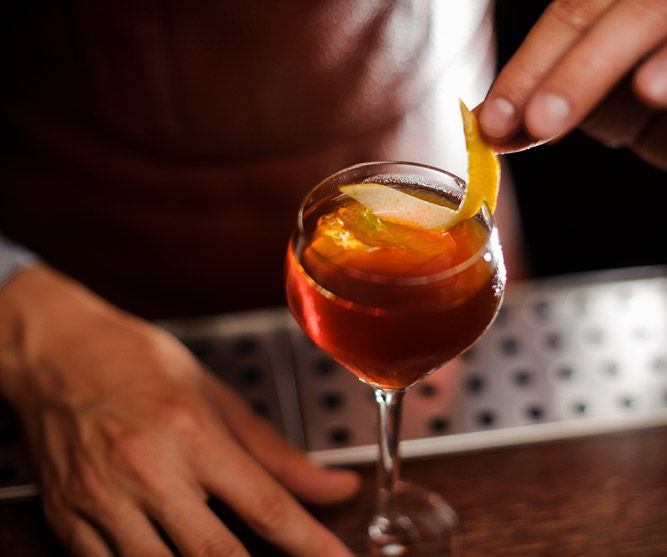 Mastering Mixology
Learn the secrets of creating classic cocktails from our master mixologists in Two E Lounge. Discover timeless recipes from the legendary 1948 Cocktail & Wine Digest book by famed Pierre bartender Oscar Haimo. Small plates and hors d'oeuvres complete the evening. For groups of 8-20 guests.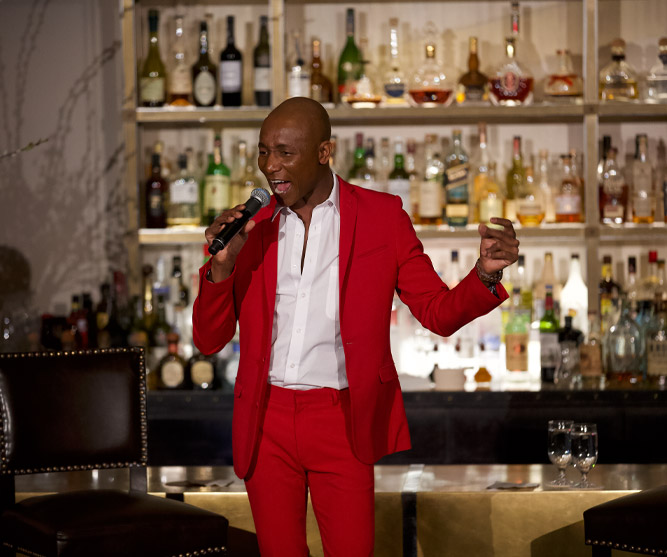 Entertainment in Two E
Treat your attendees to a front-row private table for one of our signature entertainment programs in the intimate, Neoclassical setting of Two E. Resident artist Antonio Ciacca performs live Jazz on Thursday, Friday, and Saturday evenings. Broadway At The Pierre, our acclaimed cabaret series, presents songs and stories from musical theater's brightest stars. Includes champagne and canapes. For small groups of 2-12 people.
Pierre Meetings, Frame by Frame
Prev / Next