Weddings

Steps From Central Park

Celebrated New York Wedding Venues

The Pierre has long been the premier venue for spectacular New York City weddings, captivating generations of New Yorkers who consider a Pierre wedding among their most cherished family traditions. Stunning and timeless spaces, experienced wedding planners, breathtaking florals, one-of-a-kind wedding cakes, and world-class cuisine make your celebration at The Pierre a moment to be cherished.

Request More Information Speak to our team (212) 940-8111
Access to A-List Wedding Vendors
From flowers to finishing touches, your Pierre wedding will be a work of art. Our wedding specialists offer personal introductions to New York City's premier wedding vendors, including Ron Ben-Israel Cakes (called "the Manolo Blahnik of wedding cakes" by the New York Times).

View Vendors
UnrivaledWedding Venues
From the iconic Rotunda to the glamorous Grand Ballroom, your wedding moves seamlessly between the most beautiful and romantic spaces in New York City.
Couture Cake DesignThe Icing On The Cake
Book your wedding at The Pierre and receive a specialty cake from award-winning celebrity pastry chef Ron Ben-Israel.
Expert PlanningWedding Professionals
We set ourselves apart as the premier luxury wedding venue in New York with our experienced team of in-house planners, available to assist in every step of an unforgettable celebration.
SpectacularCulinary Creativity
At The Pierre, your wedding guests enjoy an unrivaled culinary experience. Classic yet whimsical, your wedding menu will be created exclusively for you by Executive Chef Ashfer Biju and his team.

Prev / Next
Wedding Venues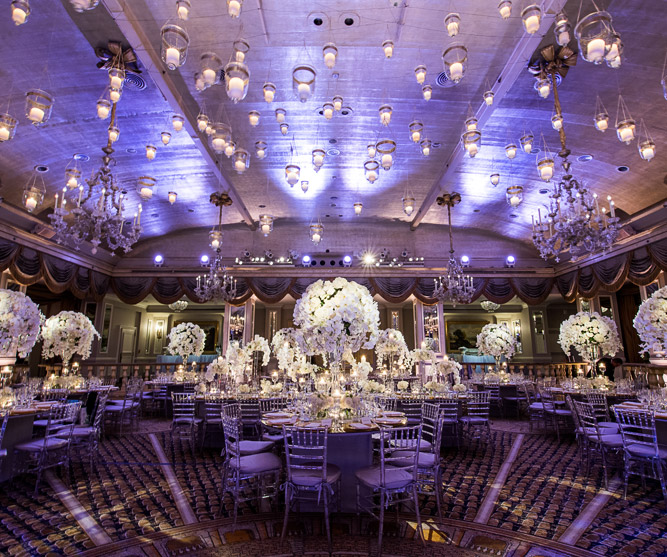 The Grand Ballroom
2nd Floor | Capacity: 700 seated, 1,500 standing

Complete with its extravagant silver and gold ceiling, The Grand Ballroom - one of the most sought-after luxury venues in Manhattan - is well known for hosting high society weddings and other elegant affairs.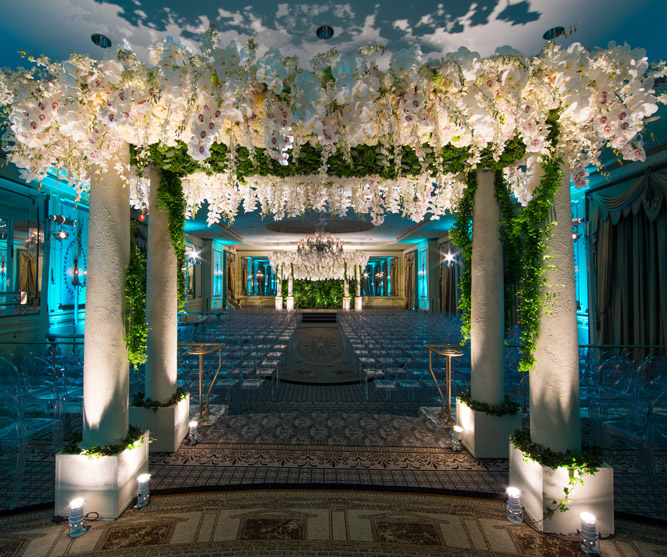 Cotillion Room
2nd Floor | Capacity: 350 seated, 500 standing

Once the supper club of The Pierre, and later the setting of the famous tango scene from Scent of a Woman, The Cotillion Room is perfect for an intimate wedding ceremony overlooking Central Park.
Garden Foyer
2nd Floor | Capacity: 150 seated, 400 standing

A private pre-function space adorned with antique chandeliers and exquisite hand-painted murals, The Garden Foyer adjoins The Grand Ballroom, and serves as the perfect location for a cocktail reception before the wedding celebration.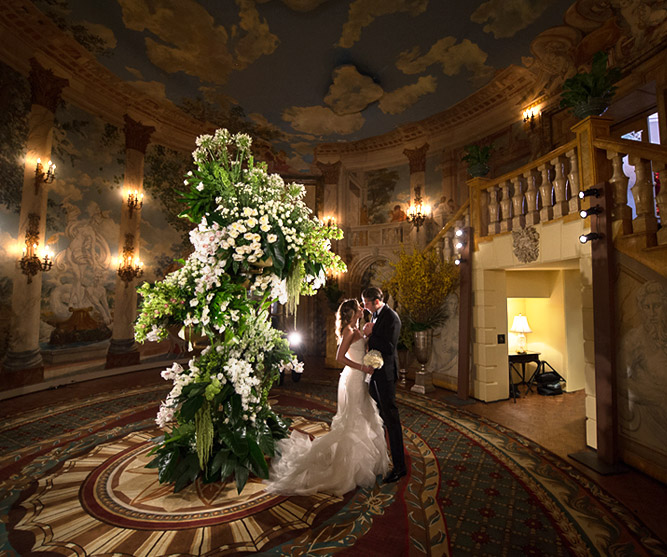 Rotunda
2nd Floor | Capacity: 50 seated, 100 standing

What better place to honor a joyous occasion like matrimony than in one of New York's most distinguished wedding venues? Between the brilliant murals and ornate finishings, this exalted spot is the perfect backdrop for a celebration of love.
"6 Stars!"
I wish I could give it 6 stars! Bill Spinner and the entire hotel staff are so kind, gracious, calm and helpful! They were a pleasure to work with. The team executed flawlessly -- we had a long wedding day packed with events and it all went off without a hitch. All of my guests had a great stay at the hotel and the bridal suite was a dream!
- Leah S.
"Incredible!"
INCREDIBLE! There are not enough words to describe how incredible the team at The Pierre made this experience. [They went] above and beyond to make us feel like the only bride and groom getting married there. Everything was absolutely stunning and perfectly set up. It exceeded my wildest dreams. I highly recommend this venue!
- Jaclyn D.
"Iconic venue"
This is the most iconic venue in the country. My wedding was a DREAM. I'm so grateful to have the ability to say my wedding took place at the Pierre. Truly breathtaking!
- Gladi S.
"Personalized"
"The level of personalized attention was world-class. Thank you for making our wedding such a special day - we had a wonderful, unforgettable (and surprisingly relaxing!) day. We've been so enthusiastic about The Pierre that we now have friends booked to marry there next year!"
- Amanda Soled & Jeremy Blechman
Catering Fit for Kings and Queens
There's a reason our staff of caterers has been named New York City's best. To choose the perfect customized menu for your wedding, our catering team offers complimentary food tastings to ensure the best possible pairing of dishes for the event. Sample Chef Ashfer Biju's scrumptious selections, and decide which bill of fare is bound to steal the show.
Start Planning Tell us a few things about the wedding you envision
Pierre Weddings, Frame by Frame
Prev / Next